In order to be a F5 Certified BIG-IP Administrator , one must pass two exams
Exam 101 – Application Delivery Fundamentals
Exam 201 – TMOS Administration
Upon passing Exam 101 Application Delivery Fundaments he/she becomes eligible to take Exam 201 TMOS Administrator provided he /she appears for Exam 201 in two years time. Unless one passes both of these exams one cannot expect any certificate from F5. Upon passing 201 Exam F5 issues a F5 Certified BIG-IP Administrator which can be downloaded from F5certification portal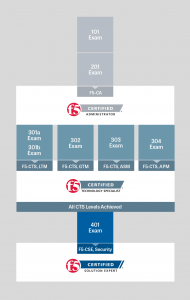 Courtesy: F5
Recently I was successful in passing F5 BIG-IP 201 exam and now I am a F5 Certified BIG-IP Administrator. When it comes to F5 exams they are quite challenging but at the same time they are straight forward. By having good hands on experience with BIG-IP Appliance and reading the recommended resources provided by F5 one could ace this exam.
When it comes to preparation of any certification exams the main thing one always look for is the right resource, for F5 BIG-IP 201 exam there are few but quite awesome recourses available. By using them one can certainly ace the exam. There is no single dedicated book one can find for this exam however the resources available in form of study guides, videos courses and practice labs are more than enough for F5 BIG-IP 201 exam preparations.
The first thing one should have a right determination and clear vision to ace this exam as this needs good amount of dedication and time, the main resources one depend for the preparation for this exam are available from F5. F5 offers a study guide 201-TMOS Administration V2 for free which any one can download from their portal.
This study guide is very brief in nature and it covers all the topics of blue print of the F5 BIG-IP 201 exam, the great thing about this guide it comes with lots of hyperlinks for the various topics covered. One should give a good attention to those hyperlinks and read and practice them.
The second great resource available is from F5 University the recommended training are
Getting Started with F5 products
LTM Essentials
These videos are quite helpful in understanding the concepts and F5 terminologies, the video courses are presented in very simple manner and quite rich in information . The content of these videos and the quiz presented after each module/topic are quite informative and relevant from exam perspective.
Thirdly the F5 Training labs which are free comes with great work books and one can get good hands on experience on F5 BIG-IP Appliances, the labs presented are so good that one can really master how to administrator BIG-IP Appliance LTM module.
Apart from using the F5 training labs , I built a virtual lab on my Mac book using F5 Big IP Virtual Appliance with 90 days trail license.
The great thing about F5 is the free resources provided by them are quite good and more than enough to nail the F5 exams , however one need to give details to minute little details like the TMSH commands usages, events generated by BIG-IP Appliance, the led status etc.